Mike Moore on the Web:
www.walkon2.org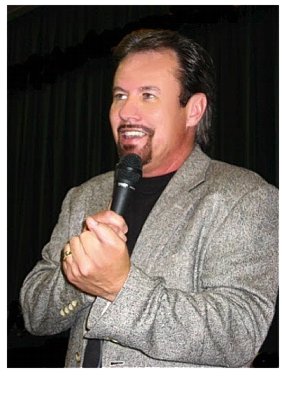 Let us introduce you to Walk on In Freedom, Inc.
Nine evangelical pastors keep a careful watch on the splendid work of Mike and Lori Moore.
THEIR STORY IS THE MOST AWESOME POWERFUL ANTI-DRUG AND ALCOHOL MESSAGE IN AMERICA TODAY!!!
Mike was addicted to crack cocaine for seven years. Spending about $800.00 per day, every reachable asset was gobbled up. Mike was delivered by the Hand of God and now lives to tell his amazing story with a heavy emphasis on PREVENTION.
Across the past three and a half years over 12,ooo young people as far as Kentucky to South Florida have stood to Walk On In Freedom. their pledge is to live free of drugs and alcohol. In each venue, a Freedom Club is encouraged to give cohesion to the group and enable careful follow-up.
"SURELY YOU WON'T DIE", the devil said to Eve. That LIE now multiplied and strengthened across the ages is killing huge numbers of our citizens...both young and old. The vocabulary of death sounds like a devil's brew of wickedness: ecstasy, crystal meth, cocaine, crack, crank, and the equally deadly but legal
LORICET, OXYCONTIN, and the ALCOHOL to wash it down with. The world moans as many of our brave soldiers die in Iraq. Well we should. But too few mourn while 25 times that number die in the streets, in the crack houses, sleazy motels, wrecked cars---all trying to find the meaning of life on the rusty end of a hypodermic syringe, in a jug of this or that, or in the fire they suck down their throats from a short-stemmed crack pipe. Mike's message is THE POWER OF TRUTH, boldly told, raw, ugly, sometimes brutal, but always straight in the face. "I've been there, I've lived it", he says.
"I know first hand just how big the LIE is that says: YOU CAN PLAY WITH DRUGS AND ALCOHOL AND SURVIVE!"
Walk On For Freedom Ministry Info:
It is many things...a challenge, a promise, a decision and a clear warning sounded to the many teens that hear this message. We realize that drugs do not discriminate. The truth is drugs do not care about age, gender or color. Walk On Ministries has developed the Walk On In Freedom program to help prevent the young people of our country from making choices that could subsequently lead to their destruction or worse...their death! After hearing Mike share his story about some of the wrong choices he made which eventually led to years of addiction, the young people are asked to make a commitment. Walk On In Freedom is a campaign to challenge them to live their lives free of alcohol and drugs. It is a contractual agreement between themselves, God, their parents and Walk On. Those willing to do so are given a certificate in which they sign along with their parents. Parents are then encouraged to frame the certificates and put them in a conspicuous place where the youths will be reminded of the promise they made. To make such an oath before their peers, families and organization makes them accountable to each other, their families and all who witness the promise they make. Our response to the Walk On In Freedom program has been overwhelming. Since it began in October of 2003, we've had over 12,000 young people make a stand and take the challenge set before them. When they step forward to make such a commitment they are standing up for God and all good things. We believe the decisions they make may change the course of their lives and the lives of others as well. We know that God has His hand upon them and He will honor this covenant. We realize all who make the promise will not keep it...it won't stop all of our young people from making wrong choices, but just one could make a difference between life and death....and that one may be yours!

Venues That Have Hosted Mike Moore's Ministry:
• Oakland Baptist Church, Hazlehurst, Ga.
• Altamaha County School, Baxley Georgia
• 12th District Elementary School, Baxley, Georgia
• Wilcox County School, Rochelle, Georgia
• Sandhill Creek FWB, Baxley, Ga.
• First Baptist of Hazlehurst, Hazlehurst, Ga.
• Altamaha Baptist Church, Jesup, Ga.,
• Manchester Baptist Church, Manchester, Ky.
• Pleasant Point Baptist Church, Manchester, Ky.
• Southside Baptist Church, McRae, Ga.
• Baxley FWB Church, Baxley, Ga.
• Amazing Grace, Hazlehurst, Ga.
• Bible Baptist, Hazlehurst, Ga.
• Camp Pickney Baptist Church, Folkston, Ga. 4/10/05
• Cedar Crossing, Uvalda, Ga.
• Consolation Baptist Church, Baxley, Ga
• Free Will Baptist Youth Camp, Glenville, Ga.
• Bethel FWB Church, Baxley, Georgia
• Yulee Baptist Church, Yulee, Florida
• New Rocky Creek, Monticello, Georgia
• Bethlehem Baptist Church, Monticello, Ga.
• Walk On Meets Judge Roy Moore
• Walk On with Hearts of Harmony
• McKee Reformed Church, McKee, Kentucky
• Smithsboro Baptist Church, Monticello, Georgia
• Sandhill Creek Baptist Church, Baxley, Georgia
• Manchester Community Church, Manchester, Kentucky
• Open Arms Community Church, Hephzibah, Georgia
• Rehobeth Baptist Church, Screven, Georgia
• Northside Baptist Church, Lakeland, Fl.
• Thomas Creek Baptist Church, Callahan, Fl.
• First Baptist of Harriet's Bluff, Woodbine, Ga.
• Metter FWB, Metter, Ga.
• Zion Hill FWB, Millwood, Ga.
• Spring Branch Baptist Church, Baxley, Ga.
• Zion Baptist Church, Baxley, Ga.
• Bethel Baptist Church, Douglas, Ga.
• Oak Grove Baptist Church, Callahan, Florida
• New Lacy Church of God, Alma, Ga.
• Woodlawn Baptist Church Youth Group, Baxley Ga.
• Sunset at our house, Alma, Ga.
• Crossroads Christian Fellowship, Sebastian, Florida
• First African Baptist Church, Alma, Ga.
• Greater St. James Baptist Church, Alma, Ga.
• 2007 Board Meeting, Baxley, Ga.
• Morgan County "Hoop It Up" Night
• Corinth Baptist Church, London, Ky.
• Bethel Baptist Church, Shady Dale, Ga.
• Wesley Chapel, Hilliard, Fl.
• Union Hill Baptist Church, Hillsboro, Ga.