Patriot Quartet Music:
Great Great Day
Wonderful Time Up There
Patriot Quartet on the Web:
www.patriotquartet.com

QUICK FACTS:
Sang at Renfro Valley

Have sung with Brian Free and Assurance, Karen Peck and New River, Tim and Mary Alice Lovelace, Hoppers

Sang at Streets of Gold

Sang Nashville Live, TV show produced by Eddie Crook and Co.

Sang on Showcases at NQC.

Also have supplied many national artist carpeting for their NQC Booths.

The Patriot Quartet is a group of dedicated and "called" men who truly love to sing the Gospel wherever they can. After beginning as a church trio in 1996, the group evolved until God led these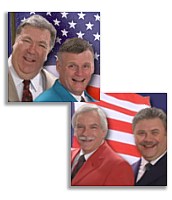 four men together January 1, 2000. They have the common goal of sharing God's wonderful gift of music, wherever and whenever possible, in pure, Southern Gospel quartet style.
Concerts feature both older favorites and original songs penned by group members and others. Whether in a church or in a concert setting, the main objective is to tell people about the "Amazing Grace" of Jesus Christ. The Quartet is getting rave reviews everywhere they sing.
God continues to bless the group as they place themselves in His hands and work hard to do their very best for Him.
Greater opportunities for ministry are opening up for the quartet than they ever dreamed possible. Above everything else, the group's desire is to bring glory to God and to lift up the name that is above every name, Jesus. Their prayer is that the Holy Spirit will use the seeds they sow through song to germinate and fill each individual need in the hearts of those who hear.
Individual Biographies:
• Jerry Shepherd - Tenor
Jerry and his wife Connie live in Burgin, Kentucky. Jerry has sung most of his adult life as a soloist and as a music director in several Baptist churches across Central Kentucky. He sang for 7 years with the Joymakers from Greensburg, Kentucky. Jerry has a true gift in presenting a song.

• Joe White - Lead
Joe and his wife Kathy live in Salvisa, Kentucky. Joe pastored in the Methodist Church for 23 years. In 1996, he felt led to start a gospel group in the church he was pastoring. One thing led to another and eventually the Patriot Quartet became a reality. Joe writes many of the songs the quartet sings. Having sung most of his life in the churches he pastored and in groups, he knows this is God's plan for his life.

• David Combs - Baritone
David and his wife Marie live in Harrodsburg, Kentucky. David also is a gifted songwriter and musician. He has played guitar for most of his life with many different groups in the Central Kentucky area. David brings a rich, mellow sound to the group which ties all the harmonies together. David has been with the Patriot Quartet since it was first started in 1996.

• Darrell Gabhart - Bass
Darrell and his wife Anne live in Lawrenceburg, Ky. For 25 years Darrell has sung with quartets in the Central Kentucky area. Darrell brings many years of experience to the group and he is a very accomplished bass singer. Darrell is very active in his home church of Goshen Baptist and works hard in the promotion of the quartet.