After many years of music ministry traveling with his sisters as the Martins, Jonathan has now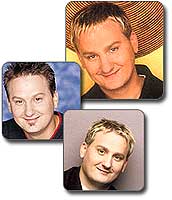 embarked on a solo ministry. Jonathan has garnered six Dove awards and a Grammy nomination.
Jonathan has been showcased before a vast array of audiences, ranging from Bill Gaither's award-winning Homecoming Video and Concert Series to the White House for a televised concert with President and First Lady Bush, called "Celebrating America's Musical Heritage".
But, perhaps one of his biggest accomplishments is the fact that regardless of his environment, whether performing at historic venues like Carnegie Hall in New York or sharing the platform at crusades with a hero like Billy Graham all of his songs reflect the promises that God has for us all.
Jonathan's style of music ranges from Southern Gospel to Inspiration, Adult Contemporary, and other popular Christian music format. Jonathan is well versed in singing a few songs during a worship service or a whole concert.
Jonathan is now continuing to be obedient to the call God has placed on his life in solo ministry. His testimony is one of courage, grace and God's faithfulness.
Career Highlights:
Past Appearances:
• Hard Rock Live! in Orlando
• The White House - "A Salute To Gospel Music"
• Grand Ole Opry
• Sam's Place at The Ryman
• 700 Club • Crystal Cathedral
• Prime Time Country
• Crook & Chase
• Gaither Homecoming concerts & videos
• Silver Dollar City
• Dollywood
• National Religious Broadcasters
• Christian Booksellers Association
• National Quartet Convention
• Southern Baptist Convention
• Estes Park
• Praise Gathering
• Family Fest
• Carnegie Hall
• TBN - Trinity Broadcasting Network
Grammy Nominations:
• 1997 - Best Southern Gospel, Country Gospel, or Bluegrass Album of the Year: Light Of The World
Dove Awards:
• 1999 - Country Recorded Song of the Year - Count Your Blessing
• 1998 - Southern Gospel Album of the Year - Light Of The World
• 1997 - Southern Gospel Album of the Year - Wherever You Are
• 1997 - Southern Gospel Song of the Year - Only God Knows
• 1996 - Southern Gospel Album of the Year - The Martins
• 1996 - Southern Gospel Song of the Year - Out of His Great Love
#1 Radio Singles:
• We Trust In God - Inspirational
• Count Your Blessing - Christian Country
• Grace - Southern Gospel
• Out of His Great Love - Southern Gospel
Top 10 Radio Singles:
• So High - #2 Southern Gospel
• Standing On The Promises - #2 Inspirational
• Lord Most High - #4 Inspirational
• You Are Holy - #3 Inspirational
• Except for Grace - #2 Inspirational
• Light of the World - #2 Inspirational
• Only God Knows - #7 Southern Gospel
• Come On In - #10 Adult Contemporary
Gospel Voice Diamond Awards:
• 1997 - Trio of the Year
• 1996 - Trio of the Year
• 1995 - Trio of the Year
• Christian Country Song of the Year: Out of His Great Love
Southern Gospel Music Guild Hearts Aflame Awards:
• 1997 - Artist of the Year
• Concept Video of the Year: Stand Up & Be Strong
• 1996 - Mixed Group of the Year SoGospelNews Award:
• 2002 - Best Progressive Album: Glorify Edify Testify
Inspirational Life Awards:
• 2002 - Southern Gospel Album of the Year: Glorify Edify Testify
Videos:
• 1999 - Light Of The World Live
• 1998 - An Evening With The Martins
• 1995 - Live In His Presence
Honors:
• 2003 - The Arkansas Walk of Fame in Hot Springs , Arkansas
• 1998 - Martins Day in Arkansas : June 15
• Governor's Award of Excellence by Arkansas Governor Mike Huckabee
Spokespersons:
GMA Membership Spokespersons 1998/1999
American Leprosy Missions Spokespersons