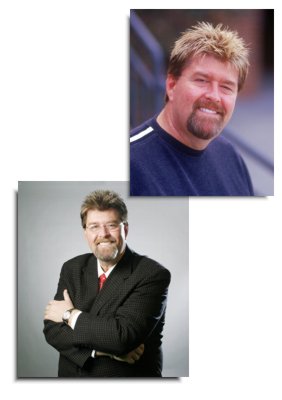 Blessed with the spiritual gifts of preaching and evangelism, Jamey Ragle has dedicated his life to reaching the lost, making people soul-conscious and strengthening the body of Christ. Jamey ministers using Biblical and personal illustrations along with humor to communicate powerful Biblical principles.
Jamey's work as an evangelist is the culmination of a lifelong desire. Claiming Psalm 37:4: "Delight thyself also in the Lord, and he shall give thee the desires of thine heart," Jamey recognizes the supernatural work of God in his life and ministry.
For the past 25 years Jamey has traveled extensively throughout the country preaching God's Word. A highly sought-after speaker, Jamey ministers through local church revival meetings, Reach the Planet crusades, corporate meetings, school assemblies and youth camps.
God has truly blessed Jamey's ministry, and the outcome is unexplainable. Thousands of people have been saved; thousands of lives have been changed. No one acting on his own power could yield such positive results.
A heart full of compassion for teens and young adults, Jamey is esteemed as "the most loved speaker on campus at Liberty University," according to Dr. Jerry Falwell. Jamey has changed the direction and future of young people across the country and is able to speak their language while pinpointing their spiritual needs.

Jamey is blessed with a wonderful Christian wife, Patty, who is his partner in ministry and the mother of three beautiful daughters: Heather, Heidi and Holly.

Career Highlights:
• Numerous TV Appearances on "Living the Life" seen on ABC' Family Channel
• Venue Appearances: Liberty University, Super WOW, National Quartet Convention, Youth Alive
Real Evangelism, Praisefest Cruise.